Label : Frémeaux & Associés
Shipped within 24 to 48 hours.
The FREMUS32DB portable device is the new FREMEAUX AUDIO BOOK PLAYER capable of reading all Frémeaux-La librairie Sonore CDs and Frémeaux-Presses Universitaires de France* courses as well as all MP3 format CDs from Frémeaux-Audible*, Gallimard*, Audiolib* and most CDs and MP3 CDs from all audio book publishers.
Indeed, the Frémeaux company refuses to produce or distribute any device that would lock its listeners into a single catalogue, in order to respect cultural diversity.
This 2x1 watts combo benefits from the total or partial repetition function of your compact discs (useful for a possible musical atmosphere). It is also equipped with an FM and DAB/DAB+ radio and has an auxiliary and USB input. So you can connect an external audio device via jack or Bluetooth.
Lightweight and small in size, it can be moved from a bedroom to a kitchen, and allows you to listen to Camus, Pagnol, Montaigne or Proust in an intimate way.
Patrick Frémeaux
Toute la collection Lecteurs Livre audio Frémeaux & Associés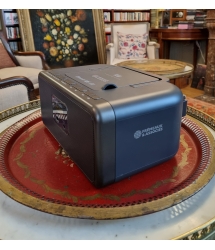 Lecteur Frémeaux Livre audio Muse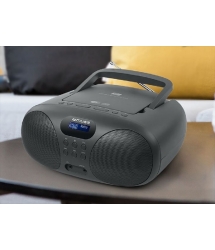 Mini Lecteur CD LIVRE AUDIO FREMEAUX MUSE
Where
to order
Frémeaux products ?