Label : Frémeaux & Associés
Shipped within 24 to 48 hours.
The FREMUS32DB portable device is the new FREMEAUX AUDIO BOOK PLAYER capable of reading all Frémeaux-La librairie Sonore CDs and Frémeaux-Presses Universitaires de France* courses as well as all MP3 format CDs from Frémeaux-Audible*, Gallimard*, Audiolib* and most CDs and MP3 CDs from all audio book publishers.
Indeed, the Frémeaux company refuses to produce or distribute any device that would lock its listeners into a single catalogue, in order to respect cultural diversity.
This 2x1 watts combo benefits from the total or partial repetition function of your compact discs (useful for a possible musical atmosphere). It is also equipped with an FM and DAB/DAB+ radio and has an auxiliary and USB input. So you can connect an external audio device via jack or Bluetooth.
Lightweight and small in size, it can be moved from a bedroom to a kitchen, and allows you to listen to Camus, Pagnol, Montaigne or Proust in an intimate way.
Patrick Frémeaux
Toute la collection Lecteurs Livre audio Frémeaux & Associés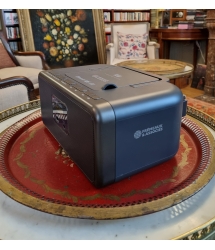 Lecteur Frémeaux Livre audio Muse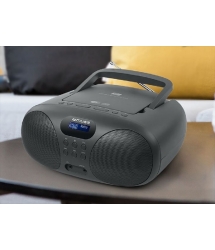 Mini Lecteur CD LIVRE AUDIO FREMEAUX MUSE
Press
Alors que le marché du livre audio repose majoritairement sur la vente de formats dématérialisés. la maison d'édition sonore Frémeaux & Associés vient de lancer un lecteur CD et mp3 pour soutenir la vente de ses livres audio physiques. En attendant le nouveau site internet marchand de l'éditeur.   Je crois à la viabilité du CD à long terme. Malgré la progression du livre audio numérique, aujourd'hui de très loin premier en termes d'usages, Patrick Frémeaux, fondateur de la maison d'édition sonore Frémeaux & Associés, lance son propre lecteur de CD et de CD mp3: le Fremus 32DB, vendu 89 euros. Produit en Chine en très grandes quantités », l'appareil est compatible avec les CD mp3 de Frémeaux-Audible, Ecoutez lire, Audiolib, Thélème et la majorité des CD et CD mp3 de tous les éditeurs de livres audio.   Pour Frémeaux et Associés, le développement d'une offre de lecteurs CD est un pari sur l'avenir. Acteur historique du marché du livre audio, l'éditeur a bien constaté, comme l'ensemble des acteurs, le recul des ventes de livres audio sur support physique. Celles-ci représentent 35% de son chiffre d'affaires, contre 50% il y a trois ans. Le marché du livre audio physique s'est effondré ces dernières années, ce qui a d'ailleurs conduit plusieurs éditeurs à abandonner les supports physiques, concède Patrick Frémeaux à Livres Hebdo. Mais les ventes de livres audio physiques restent importantes chez nous, très au-dessus de la moyenne du marché. Elles continuent de répondre à une demande forte de clients sensibles à l'aspect patrimonial et qui apprécient d'avoir chez eux une bibliothèque sonore..   Logique de long terme   La vente de terminaux de lecture est une première pour l'éditeur, qui a aussi lancé fin 2021 un premier modèle de mini- lecteur, non compatible avec les formats mp3. Elle lui permet de soutenir les ventes de son important stock de trois millions de CD tout en anticipant la pénurie prochaine de chaines équipées de lecteurs CD. Il coûtera de plus en plus cher d'acheter un lecteur CD car les fabricants ne font plus que des petites séries. Nous avons constitué un stock important de notre nouveau lecteur pour être en mesure de le proposer pendant plusieurs années à un prix abordable, détaille Patrick Frémeaux. Nous sommes dans une logique de long terme. Les clients qui sont habitués à acheter nos CD sous forme physique doivent pouvoir continuer à se procurer un terminal de lecture s'ils en ont besoin.   Une vingtaine de jours après son lancement, le Fremus 32DB bénéficie d'un bon accueil du public, selon Frémeaux & Associés. Le lecteur est disponible en vente par correspondance, mais peut aussi être acheté en librairie. L'éditeur espère par ce biais enrayer la disparition progressive des livres audio des rayons. Nous avons d'excellents taux de rotation en librairie, mais comme l'offre globale de livres audio physiques tend à diminuer les librairies sont de moins en moins nombreuses à garder un rayon dédiés, déplore Patrick Frémeaux. La maison d'édition, qui clôture son chiffre d'affaires le 30 septembre, observe depuis octobre 2021 une progression de +4,5% de ses ventes globales, dont +6% pour les seuls livres audio physiques, en particulier grâce à la vente par correspondance. Nous faisons tout pour privilégier les librairies, nous attendons d'elles qu'elles jouent le jeu en continuant à proposer nos livres audio CD, conclut Patrick Frémeaux. Charles KNAPPEC Livres Hebdo, le 15/02/2022
Read More
Read Less
Where
to order
Frémeaux products ?