Boswell Sisters - Andrews Sisters - Patti Labelle & The Blue Belles - Martha & The Vandellas - The Supremes
Artistic Direction : JEAN-PAUL RICARD ET JEAN BUZELIN
Label :  FREMEAUX & ASSOCIES
Total duration of the pack : 3 hours 32 minutes
Nbre. CD : 3
Shipped within 24 to 48 hours.
Boswell Sisters - Andrews Sisters - Patti Labelle & The Blue Belles - Martha & The Vandellas - The Supremes
Groups of girls singing together… from the end of the 20s they were known as girl vocal groups, a huge phenomenon in the USA that ended only in the 60s. By then they'd established the art of singing vocal harmony in every genre of American pop, and gone far beyond the country's borders. Jean Buzelin and Jean-Paul Ricard have gone deep into jazz, pop and soul material for this set, and chosen the most representative groups that sublimed the songs of America's girl singers.
Patrick FRÉMEAUX
CD1 (1931-1958) : BOSWELL SISTERS - IT'S THE GIRL • EVERYBODY LOVES MY BABY • MOOD INDIGO • ALEXANDER'S RAGTIME BAND. PICKENS SISTERS - SWEET GEORGIA BROWN. DANDRIDGE SISTERS - MINNIE THE MOOCHER IS DEAD. KING SISTERS - IN THE MOOD • JERSEY BOUNCE. DE MARCO SISTERS - IT'S BEEN A LONG LONG TIME • BOUILLIBASE. ANDREWS SISTERS - BEI MIR BIST DU SCHOEN • HOLD TIGHT, HOLD TIGHT • TUXEDO JUNCTION • BOOGIE BOOGIE BUGLE BOY • RUM AND COCA-COLA. DINNING SISTERS - AUNT HAGAR'S CHILDREN BLUES • OH MO'NAH!. FONTANE SISTERS - CASTLE ROCK • SEVENTEEN • CHANSON D'AMOUR. DECASTRO SISTERS - TEACH ME TONIGHT • LET YOUR LOVE WALK IN • TIGER RAG. PETERS SISTERS - SAINT-LOUIS BLUES • COMME TU ME PLAIS. CHORDETTES - WHEN YOU WERE SWEET SIXTEEN.

CD2 (1952-1961) : CHORDETTES - MR. SANDMAN • LIKE A BABY. CLARK SISTERS - I CAN'T GET STARTED. PAULETTE SISTERS - TELL ME YOU DON'T LOVE ME. ENCHANTERS - I'VE LOST. SHIRLEY GUNTER & THE QUEENS - OOP SHOOP. MCGUIRE SISTERS - GOODNIGHT, SWEETHEART, GOODNIGHT. BEVERLEYSISTERS - I DREAMED. LENNON SISTERS - TO KNOW YOU IS TO LOVE YOU. HEARTS - LONELY NIGHTS. BONNIE SISTERS - CRY BABY. COOKIES - IN PARADISE. RAELETTES - WHAT KIND OF MAN ARE YOU. THREE TONS OF JOY - THE LIGHT STILL SHINE IN MY WINDOW. TONETTES - OH WHAT A BABY. QUIN-TONES - DOWN THE AILES OF LOVE. PONI-TAILS - BORN TOO LATE. BOBBETTES - MR. LEE • HAVE MERCY BABY • ARE YOU SATISFIED. CHANTELS - MAYBE • IF YOU TRY • SUMMERTIME. MILLER SISTERS - DANCE CLOSE. PARIS SISTERS - I LOVE HOW YOU LOVE ME. COOKIES - CHAINS. STAPLE SINGERS - DOWNWARD ROAD • DON'T DRIVE ME AWAY.

CD3 (1960-1962) : SHIRELLES - DEDICATED TO THE ONE I LOVE • WILL YOU STILL LOVE ME TOMORROW • BIG JOHN • SOLDIER BOY. BLOSSOMS - SON-IN-LAW • THE SEARCH IS OVER. CRYSTALS - THERE'S NO OTHER • UPTOWN. RONETTES - I'M ON THE WAGON • SILHOUETTES. ANGELS - CRY BABY CRY. CHIFFONS - HE'S SO FINE. ORLONS - DON'T HANG UP. MARVELETTES - PLEASE MR. POSTMAN • PLAYBOY • FOREVER. SUPREMES - BUTTERED POPCORN • LET ME GO THE RIGHT WAY • PLAY A SAD SONG • YOU BRING BACK MEMORIES. MARTHA & THE VANDELLAS - I'LL HAVE TO LATE HIM GO. CHARMAINES - ALL YOU GOTTA DO. TONETTES II - NO TEARS. IKETTES - I'M BLUE. EXCITERS - TELL HIM. ROYALETTES - NO BIG THING. STARLETTS - BETTER TELL HIM NO. PATTI LABELLE & THE BLUE BELLES - GO ON.

DIRECTION COLLECTION : JEAN-PAUL RICARD ET JEAN BUZELIN
Toute la collection Rock'n'roll Originals & Rhythm'n' Blues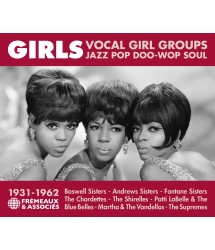 Girls Vocal Girl Groups - Jazz pop doo-wop soul - 1931-1962
Boswell Sisters - Andrews Sisters - Patti Labelle &...
Piste

Title

Main artist

Autor

1

It's The Girl

The Boswell Sisters

Abel Baer

2

Everybody Loves My Baby

The Boswell Sisters

Spencer Williams

3

Mood Indigo

The Boswell Sisters

Duke Ellington

4

Alexander's Ragtime Band

The Boswell Sisters

Irving Berlin

5

Sweet Georgia Brown

The Pickens Sisters

Bernie Ben

6

Minnie The Moocher is Dead

The Dandridge Sisters

Musgrove

7

In The Mood

The King Sisters

Joe Garland

8

Jersey Bounce

The King Sisters

Bobby Plater

9

It's Been A Long Long Time

The De Marco Sisters

Jule Styne

10

Bouillibase

The De Marco Sisters

Alexander

11

Bei Mir Bist Du Schoen

The Andrews Sisters

Sholom Secunda

12

Hold Tight, Hold Tight

The Andrews Sisters

Leonard Ware

13

Tuxedo Junction

The Andrews Sisters

Erskine Hawkins

14

Boogie Boogie Bugle Boy

The Andrews Sisters

Don Raye

15

Rum and Coca-Cola

The Andrews Sisters

Paul Baron

16

Aunt Hagar's Children Blues

The Dinning Sisters

Handy

17

Oh Mo Nah

The Dinning Sisters

Country Washburn

18

Castle Rock

The Fontane Sisters

Al Sears

19

Seventeen

The Fontane Sisters

Boyd Bennett

20

Chanson d'amour

The Fontane Sisters

Wayne Shanklin

21

Teach Me Tonight

The De Castro Sisters

Gene De Paul

22

Let Your Love Walk In

The De Castro Sisters

Joe Greene

23

Tiger Rag

The De Castro Sisters

Eddie Edwards

24

Saint-Louis Blues

The Peters Sisters

Handy

25

Comme tu me plais

The Peters Sisters

Paul Misraki

26

When You Were Sweet Sixteen

The Chordettes

James Thornton
Piste

Title

Main artist

Autor

1

Mr. Sandman

The Chordettes

Pat Ballard

2

Like A Baby

The Chordettes

Jesse Stone

3

I Can't Get Started

The Clark Sisters

Vernon Duke

4

Tell Me You Don't Love Me

The Paulette Sisters

Jane Paulette

5

I've Lost

The Enchanters

Chris Towns

6

Oop Shoop

Shirley Gunter & The Queens

Shirley Gunter

7

Goodnight, Sweetheart, Goodnight

The McGuire Sisters

Calvin Carter

8

I Dreamed

The Beverley Sisters

Charles Green

9

To Know You Is To Love You

The Lennon Sisters

Henry Mancini

10

Lonely Nights

The Hearts

Zell Sanders

11

Cry Baby

The Bonnie Sisters

John Robinson

12

In Paradise

The Cookies

Taylor

13

What Kind of Man Are You

The Raelettes

Ray Charles

14

The Light Still Shine In My Window

The Three Tons of Joy

Johnny Otis

15

Oh What a Baby

The Tonettes

Josie Allen

16

Down The Ailes of Love

The Quin-Tones

Phyllis Carr

17

Born Too Late

The Poni-Tales

Charles Strouse

18

Mr. Lee

The Bobbettes

Emma Pought

19

Have Mercy Baby

The Bobbettes

Billy Ward

20

Are You Satisfied

The Bobbettes

Emma Pought

21

Maybe

The Chantels

Richard Barrett

22

If You Try

The Chantels

Richard Barrett

23

Summertime

The Chantels

George & Ira Gershwin

24

Dance Close

The Miller Sisters

Ollie Jones

25

Love How You Love Me

The Paris Sisters

Barry Mann

26

Chains

The Cookies

Carole King

27

Downward Road

The Staple Singers

Traditionnel

28

Don't Drive Me Away

The Staple Singers

Traditionnel
Piste

Title

Main artist

Autor

1

Dedicated To The One I Love

The Shirelles

Lowman Pauling

2

Will You Still Love Me Tomorrow

The Shirelles

Carole King

3

Big John

The Shirelles

John Patton

4

Soldier Boy

The Shirelles

Luther Dixon

5

Son-in-Law

The Blossoms

Dave Burgess

6

The Search Is Over

The Blossoms

Elroy Peace

7

There's No Other

The Crystals

Phil Spector

8

Uptown

The Crystals

Barry Mann

9

I'M On The Wagon

The Ronettes

Joe Seneca

10

Silhouettes

The Ronettes

Frank Slay

11

Cry Baby Cry

The Angels

Maurice Bailey Jr

12

He's So Fine

The Chiffons

Ronnie Mack

13

Don't Hang Up

The Orlons

Kal Mann

14

Please Mr. Postman

The Marvelettes

Dobbins

15

Playboy

The Marvelettes

Brian Holland

16

Forever

The Marvelettes

Brian Holland

17

Buttered Popcorn

The Supremes

Berry Gordy Jr

18

Let Me Go The Right Way

The Supremes

Berry Gordy Jr

19

Play A Sad Song

The Supremes

Berry Gordy Jr

20

You Bring Back Memories

The Supremes

William Robinson

21

I'll Have To Late Him

Martha & The Vandellas

William Robinson

22

All You Gotta Do

The Charmaines

Bebe Starr

23

No Tears

The Ronettes

Williams

24

I'm Blue

The Ikettes

Ike Turner

25

Tell Him

The Exciters

Bert Russell

26

No Big Thing

The Royalettes

Alex Ferrara

27

Better Tell Him

The Starletts

Bernice Williams

28

Go On

Patti Labelle & The Blue Belles

Robert Martin